Job Opportunity For Seniors In Bangalore
Job Opportunity for Seniors at Sanjay Nagar, Bangalore for a Sales & Marketing executive position.
This position has now been filled. The vacancy no longer exists.
A great job opportunity for seniors!
We are hiring for our client's company that designs and sells consumer and industrial products. They are looking for a Sales & Marketing executive for their Panic Button and Asset Tracking products.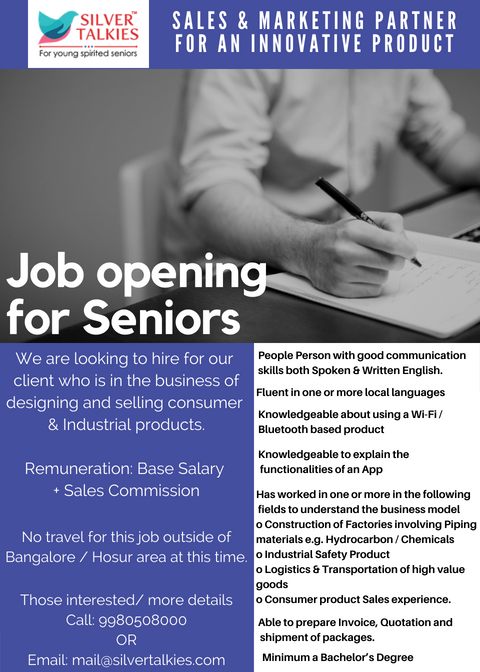 Job requirements include:
* Person with good communication skills in English and fluency in one or more local languages.
* Knowledge of computers and smartphones and also about using wifi/bluetooth based products in order to explain the functionalities of an app.
* Should have worked in one or more of the following fields and have contacts within the industry: Construction of factories involving piping materials, e.g. hydrocarbon/chemicals; Industrial safety products; Logistics and transportation of high value goods; or Consumer product sales experience.
* Educational qualifications: Bachelor's Degree at the minimum
* Should be able to prepare invoice, quotation and shipment of packages.
* Remuneration: Salary + sales commission.
* No travel outside Bangalore required. Work from home possible.
TO APPLY: Call 9980508000 OR EMAIL: mail@silvertalkies.com
Please apply only if you fit the profile and are genuinely interested in a second career