A Doctor Records His Journey In Palliative Care
Padma Shri Dr M. R. Rajagopal is a pioneer in the study and practice of palliative care in India. He founded Pallium India, a non-profit that provides palliative care. Dr Rajagopal has contributed to the amendment of the NDPS Act of India (2014), the development of a Government policy on Palliative Care in Kerala (2008) and the National Palliative Care Strategy (2012). He is the author of Walk with the Weary: Life-changing Lessons in Healthcare, where he shares his thoughts, experiences and suggestions. Excerpts from a lengthy interview with Silver Talkies.
Reshmi Chakraborty: What does your book Walk with the Weary: Life-changing Lessons in Healthcare address?
Dr Rajagopal: In my book, I point out the failure of the Health Care System to address suffering. Very often, health care adds to suffering. The fact is that disease and death come into every life, and being prepared would mean the reduction of suffering. If you refuse to think about illness and suffering, saying we will cross the bridge when we come to it, why think negatively, you don't know what to do when it happens and many a time, the profit-making part of the Health Care Industry will exploit this fact and add to your suffering. This is my message, and through my experiences in the book, I needed to convey that.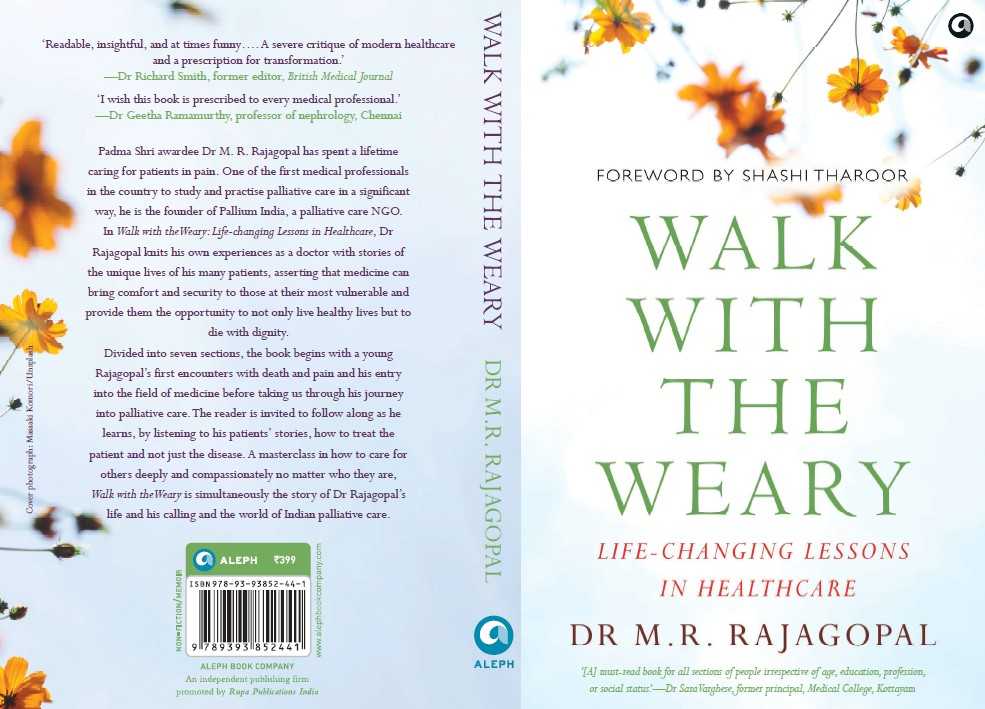 RC: What is palliative care, and does it apply to all illnesses?
Dr Rajagopal: First, Palliative Care is the prevention and management of serious health-related suffering. Second, it is not only about the end of life. When there is suffering, you are supposed to address it. Third, it's not only about cancer.
RC: Why is there a common perception that Palliative Care is only associated with cancer?
Dr Rajagopal: This is partially due to a historical incident. A nurse in the UK, Cicely Saunders, who later became a doctor, found that the medical system rejected cancer patients. She found that people dying from cancer were left without treatment and started looking after these people. That's how it all started. For many years, Palliative Care solely focused on cancer. This historical origin also meant that cancer hospitals were often the first to start Palliative Care. The first hospices were primarily focused on caring for cancer patients. An oncologist in Mumbai started the first hospice in India called Shanti Avedna Sadan. Following this, the definitions started including every type of suffering. Even now, a little bit of that history still haunts us. But we now know that one doesn't get care only if they have cancer but deserves care if they have suffering.
RC: Your book mentions that Palliative care is not just about the end of life. One can go through Palliative Care when pain management is required, get better, and continue to live one's life.
Dr Rajagopal: Absolutely. In 2014, the World Health Assembly, which is the decision-making body of the World Health Organization, passed a resolution asking all the member countries to integrate Palliative care into all health care across the continuum of care, which is from the time of diagnosis to the end, at the primary, secondary and tertiary levels of healthcare delivered. This is what is globally accepted.
RC: Do you think that as a community, we refrain from talking about death though it has been part of our ancient texts?
Dr Rajagopal: We talked about this in Hindu, Buddhist and Jain cultures and accepted death. But now, we choose to ignore these facts; we've learned to ignore the wisdom we gained over centuries. I understand the importance of this; being 75 years old, I know I could die today or survive many more years. So, when I know my time is limited, I focus on what is meaningful. I want to live in this time doing things I want to do, not just waste it. Thinking about death is a considerable strength that adds meaning to one's life. As we become more death-denying, we lose these opportunities. A death-accepting society is important. In 2022, the Lancet Commission on the Value of Death published its report. Death literacy is something strongly recommended in this document. The last two generations have been 'death illiterate'. Death is not a monster to be feared but a reality to be accepted.
RC: What does death literacy mean?
Dr Rajagopal: It essentially is death being discussed again since we've stopped talking about it and stopped thinking about it. It was a part of our culture when there were extended families and children grew up seeing death. (Editor's note: Chapter Two, The First Death, in Dr Rajagopal's book illustrates this)
That is not happening anymore because nuclear families have no deaths happening there; even if it does happen, children are not a part of it, so you grow up as a death illiterate. This literacy can be brought back only by bringing death back into life. There is a movement called 'death café' in the USA, where you take a friend to a café and discuss death, and a third person joins the discussion. After a while, a large group joins this discussion. Most people who think about it do not have the opportunity to talk about it. A few years ago, we conducted a program called 'Let's have tea and talk about death'. We said that anyone was welcome to join. We expected around 25 people to show up, but the hall was packed, and there were standees throughout the program. I'm implying that many people in the community have death on their minds, but they have no school to go to to achieve this literacy. So, when you provide an opportunity, they come along. Death literacy, therefore, means building into the unfamiliar areas of death, thinking about it, talking about it and accepting that it is an inevitable consequence of life.
RC: How accessible is Palliative care around the country?
Dr Rajagopal: If we have to go by the data, less than 4 per cent of the population has access to pain relief alone. If other symptoms and psychosocial support are considered, maybe less than 2 per cent of the Indian population can access this. Kerala is doing better in this case, but Kerala has only 3 per cent of the Indian population. Even in Kerala, with its community-based palliative care system, access is grossly inadequate.
RC: What are some of the misconceptions around palliative care you've encountered over all these years?
Dr Rajagopal: Misconceptions have mostly been on the part of the professionals, which get transmitted to the public. For example, people believe that palliative care is only for those expecting death or those who have cancer, that it is to make people doped and unable to function towards the end of life, and that pain relief is dangerous. One more misconception is a thought that palliative care is about giving up. The health care system propagates a myth that you must fight even impossible battles, which means that you never come to accept death; this futile fight will mean that you will spend your remaining days in hospital corridors, not holding the hand of a loved one or not visiting a place you've always wanted to go to.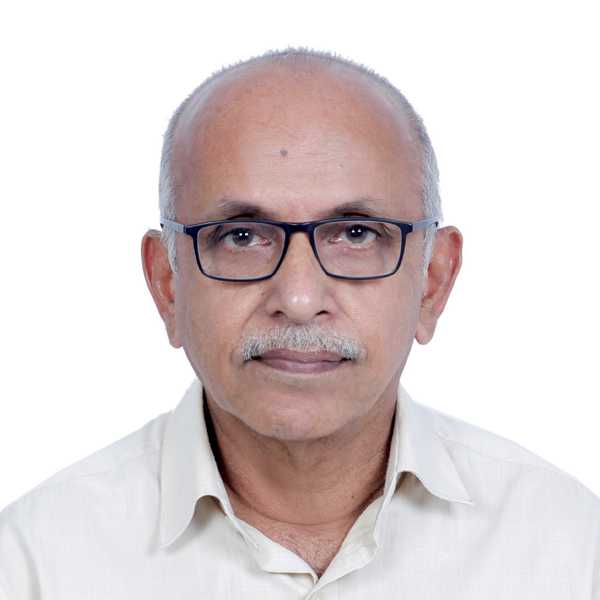 Dr MR Rajagopal
RC: Could you share an instance where people have accepted their end and where palliative care has played an important role?
Dr Rajagopal: Once, at my clinic, a man in an advanced stage of cancer was banging his head against a wall in agonising pain. The scalp broke, and blood splattered on the wall. People tried to stop him. As I moved toward him, his wife, an elderly woman, caught me by the sleeve and said, "Please kill him, as I cannot bear to see this." Apparently, he had even tried to jump out of the 5th-floor window because he couldn't bear the pain; she had screamed and gathered people to drag him back to the bed. Eventually, when we managed his pain, he asked me in his rural dialect, "You have taken the pain away, so could you take the disease away too and cure me?" I had to do the difficult task of talking about incurability.
The pain was controlled, but he took some time to process it. In a subsequent conversation, I asked him what he would like to do with the limited time left. He thought for a while and said he wanted to visit the school he had studied in. He had only had a primary school education. He went there, walked around the classrooms, sat on one of the benches and walked across to one of the dried-up streams where he and his friends would wash their plates after lunch. He pointed to a hill and said that he used to climb it. On his way back, he told his son he was at peace. I am not quite sure what connected him to that school. Maybe he had some of his best memories in that school.
It is not just about treating the pain, vomiting or ulcers but also about understanding people as people, finding out what is important to them, and walking with them through that journey. It was important for this man to visit his school, just as important as it was for a woman to tell me she didn't mind if I kept her in the ICU or put her on a ventilator but to keep her alive until her son could arrive. She wanted him to see her alive. It's a different connection in both cases. The man had accepted his fate. Even the woman had accepted it, but her connection with her son was the most important thing to her. It is about accepting people as they are, accepting that they may have different values, respecting those values and facilitating or re-establishing these connections and helping them to hold on to their values in their last moments.
-
Dr Rajagopal
RC: Thank you for those two instances. Please tell us about your work with Pallium India.
Dr Rajagopal: We envision an India where palliative care is integrated into all health care. The bulk of it will have to be by influencing the health care system where every doctor, nurse, pharmacist and physiotherapist understands the principles of palliative care and makes it part of their work. The National health policy 2017 includes palliative care as a part of primary care. From 2019, all of this is part of the MBBS curriculum. From 2022, it is also a part of the nursing curriculum. We may be closer to realising this wild dream than we believe possible. Will that be enough? Definitely not. What is most needed? You. The most important thing is for the public to be aware and accept the need.
RC: Where is the addiction misconception you talked about stemming from?
Dr Rajagopal: Unfortunately, two-thirds of all cancer pains and a small percentage of other pains can be relieved only with opioid medicines or derivatives of opioids like morphine and similar drugs. This means that we must use them, and they all have an addictive property which is negligible if used by people who study them safely and effectively. This is what has been achieved over 40 years by the Western European countries, over a quarter century in Kerala, or in a low-income country like Uganda. A balance between abuse prevention and proper use has been attained in all these places. Unfortunately, things went out of hand in the US about 50 years back. So, when this issue of trafficking of addictive substances in the USA began, there was a natural backlash. Historically, opium was abused for money and political reasons. In response to the global war on drugs, India created a draconian law called the Narcotic Drugs and Psychotropic Substances Act in 1985 which drastically prevented the use of opioids for pain relief.
Interestingly, it was only legal opioids that stopped. The law had minimal effect on illegal trafficking. Suddenly, the use of opioid derivatives stopped for all practical purposes. India has changed the law now but not changed public and professional perceptions enough.
RC: What has changed after the law changed in 2014?
Dr Rajagopal: Earlier in the 1990s, when I needed morphine, I needed to go to several government departments to access it. In the old system, you needed different licenses for different departments. All licenses would have to be valid at the same time. But by the time you got one license, the other would expire. It was a catch-22 situation because each was given by a different agency and had a short validity period. Now, once the institution is approved as a recognised medical institution, no licenses are required, and medicines can be ordered and delivered. But the documentation is still necessary, and a drug consumption statistics report needs to be submitted to the drug controller. This is important because we must realise that pain comes under suffering, and even addiction is suffering. So I must use it safely and effectively. We call it the Principle of Balance.
Dr Rajagopal's book is available on Amazon and in bookstores around you. To know more about Pallium India's work in palliative care, visit: https://palliumindia.org/
From our archives: A guide to palliative care
Comments
yes, but I am yet to know it's full implication. My write up has been nicely edited thank you very much
I read this very informative article. thank you
Thank you. Glad you found it useful
Dear rashmi, I read this article I feel it's extremely good information on end of life care! Thx!